Fine Dining at the Lost Horizon Beach Dive Resort Restaurant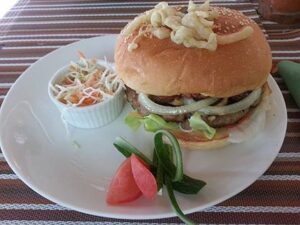 Long before the sun rises on another perfect tropical morning, our chefs are busy selecting and preparing the ingredients needed to satisfy the dining expectations of our most discerning guests.
From short orders to fine dining, we bring you the best of local and international foods and beverages. At night, starting at 6 pm enjoy The absolute best BBQ on Alona Beach! Where the food is perfectly cooked and the sauces are the best you have ever tasted.
The Narcosis Bar at Lost Horizon Beach Dive Resort offers a wide range of meals, refreshing drinks and a selection of delicious cocktails.
It's the perfect place to enjoy a ice cold beer or a mixed drink while relaxing by the beach. With live music from 6pm – 10pm Evey night except Monday night.
Beer Happy Hour runs all day until 6am – 6pm
Rum and Coke Happy Hour is between 6am – 6pm
---